Roasted Spiralized Butternut Squash Noodles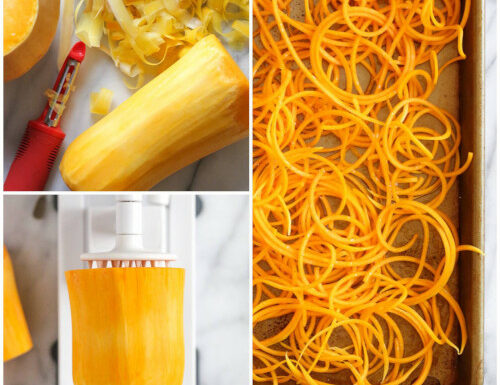 Roasted Spiralized Butternut Squash Noodles are a healthy pasta alternative or side dish that only takes about 10 minutes to roast in the oven.
INGREDIENTS:
20 ounces (from 1 large) top portion of butternut squash, peeled
2 teaspoons olive oil
1/4 teaspoon kosher salt
black pepper, to taste
DIRECTIONS:
Preheat the oven to 400F.  Lightly spray 2 large baking sheets with oil.
Trim the top portion of the butternut that can be spiralized reserving the bottom for another recipe. Trim the top off and peel the skin off.
Cut the butternut in 2 pieces so it's easier to handle, then spiralize using the thickest noodle setting of your spiralizer. Cut into 6 inch lengths so it's easy to eat.
Transfer to the prepared baking sheets and drizzle each with 1 teaspoon oil, 1/4 teaspoon salt and black pepper to taste.
Roast until soft, 7 to 10 minutes.