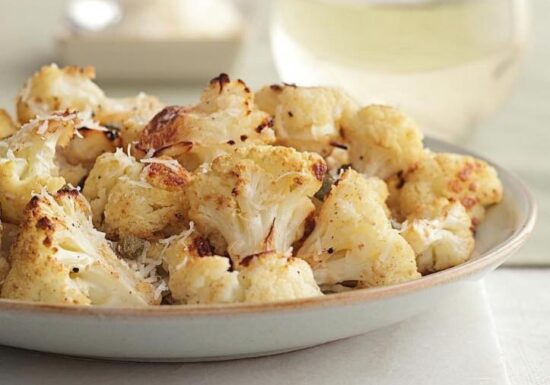 DIRECTIONS:
1 lemon
1 large head cauliflower, trimmed and cut into bite-size florets
2 tablespoons extra-virgin olive oil
Bertolli Olive Oil Extra Virgin
Colavita Olive Oil Extra Virgin
1/4 teaspoon salt 1/4 teaspoon freshly ground pepper1/2 cup finely shredded Parmesan cheese, plus more for garnish2 tablespoons capers, rinsed
Preparation
Active
15 m
Ready In
40 m
Position rack in lower third of oven; preheat to 450 °F. Coat a large rimmed baking sheet with cooking spray. With a sharp knife, remove skin and white pith from lemon and discard. Working over a small bowl, cut the lemon segments from their surrounding membranes, letting the segments drop into the bowl. Drain the juice from the segments. Toss the lemon segments, cauliflower, oil, salt and pepper on the baking sheet and spread evenly. Roast until starting to soften and brown, stirring once halfway through, 25 to 30 minutes. Sprinkle Parmesan and capers over the cauliflower; stir to combine. Serve garnished with more Parmesan, if desired.
Easy cleanup: Recipes that require cooking spray can leave behind a sticky residue that can be hard to clean. To save time and keep your baking sheet looking fresh, line it with a layer of foil before you apply the cooking spray.