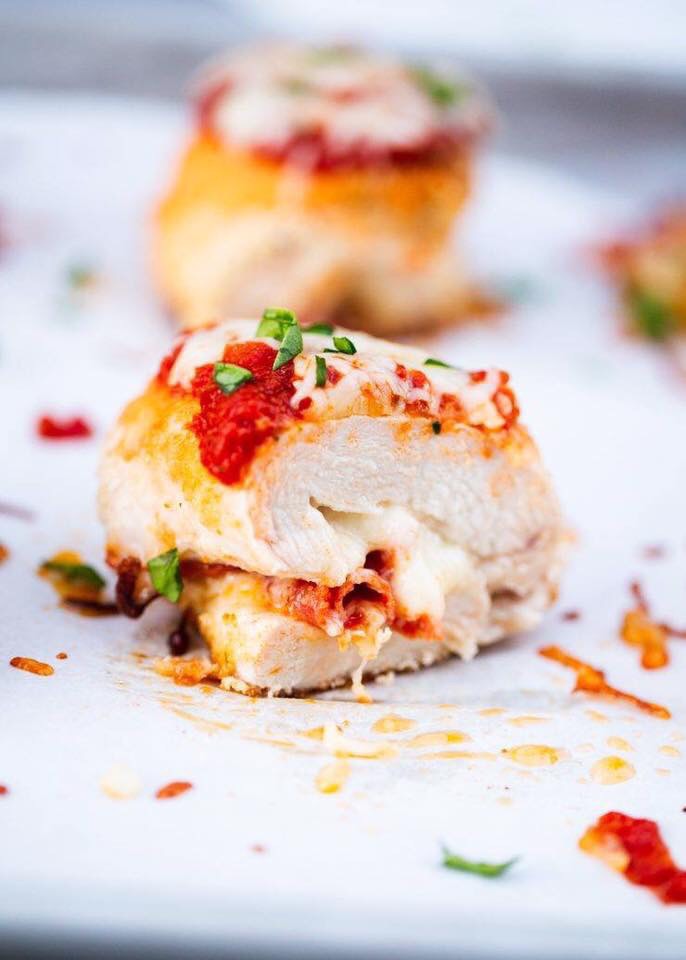 INGREDIENTS:
Olive oil spray
3 boneless, skinless chicken breasts
Kosher salt and ground pepper, to taste
1/2 cup shredded mozzarella, more if needed
12 slices pepperoni
1/4 cup seasoned breadcrumbs
2 Tablespoons grated Parmesan cheese
1 Tablespoon fresh lemon juice
1 Tablespoon olive oil
1/2 cup marina sauce
Fresh chopped basil, optional
DIRECTIONS:
1. Preheat oven to 450ºF. Line a baking sheet with foil or parchment paper and lightly spray with oil. In a bowl, combine the bread crumbs and Parmesan. In a second bowl, combine the olive oil and lemon juice. Set aside.
2. Cut each chicken breast in half, horizontally to create 6 pieces. Cover with a piece of wax paper and lightly pound to 1/4″ thickness. Season lightly with salt and pepper.
3. Lay each piece out and top with 1-2 Tablespoons mozzarella cheese and 2 slices pepperoni. Roll each piece up, starting with the smaller edge and then dip into the olive oil mixture and then into the bread crumbs mixture. Place onto the baking sheet, with the seam facing down. Lightly spray the tops with oil. Bake for 20 minutes.
4. Remove chicken and then add about 1 Tablespoon of marinara and mozzarella cheese. Bake for an additonal 4 to 5 minutes, or until the cheese is melted and the chicken is no longer pink.
yield: 45 MINUTES prep time: 20 MINUTES cook time: 25 MINUTES