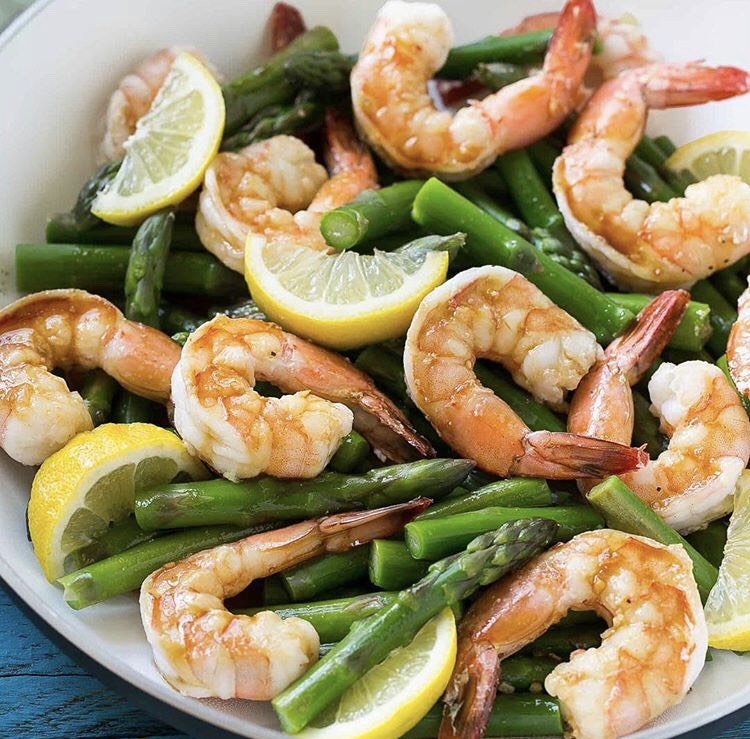 A quick and easy stir-fry with shrimp and asparagus that's ready in 15 minutes.
Ingredients
 1 pound large shrimp peeled and deveined
 1 and 1/4 pound asparagus ends trimmed and cut into 2-inch pieces
 2 teaspoons olive oil
 1 tablespoon minced fresh ginger
 3 tablespoons of soy sauce
 1 and 1/2 tablespoons of honey
 1 tablespoon of fresh lemon juice
 1 teaspoon sesame oil
 salt and pepper to taste
 lemon wedges for serving
 Optional: add steamed cauliflower rice
Instructions
In a small bowl whisk together the soy sauce, honey, lemon juice, and sesame oil. Set aside.
In a large pan heat the 2 teaspoons of olive oil over medium-high heat. Add the asparagus and cook for 2-3 minutes.
Sprinkle the shrimp with salt and pepper and add to the pan, cook for 3-4 minutes, stirring frequently, or until shrimp are pink and opaque.
Add the ginger and cook for one more minute.
Add the soy sauce mixture to the shrimp and vegetables and toss to coat; cook for one more minute. Taste and add salt and pepper as needed.
Serve the stir-fry over brown rice if desired.  Garnish with lemon wedges