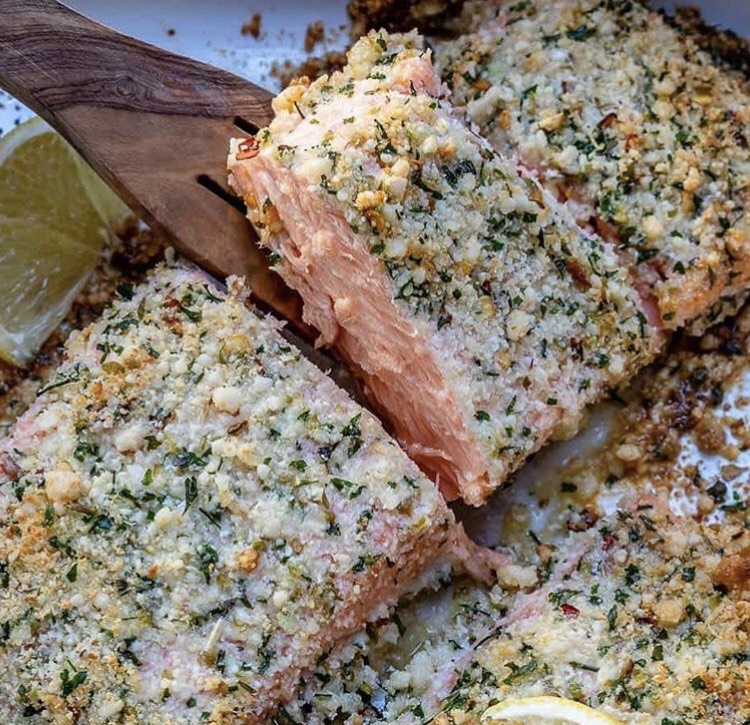 What's not to love about a perfectly baked salmon fillet? I love how you can add them over salad, enjoy as is, serve with a side of rice, quinoa or loads of veggies. There are pretty much two types of fish I love to eat that aren't too fishy. Salmon and white fish like cod. Salmon is my favorite though. This Baked Salmon recipe has such an amazing flavor to it and I bet you will love it as much as I do.
WHAT IS SALMON GOOD FOR?
Salmon is very well known to be an excellent source of quality protein. They are packed with omega-3 fatty acids and DHA which help lowers blood pressure and reduce inflammation. Also, salmon is high in nutrients such as Vitamin B which is great for protecting your heart and brain health. 
Ingredients
 1 1/2 lb Skinless wild salmon fillets or 4 medium fillets
 1/3 Cup Almond Meal
 1/3 Cup Grated parmesan cheese
 1/2 Tbsp Dried parsley
 1/2 Tbsp Dried oregano
 1 Tsp Chili flakes
 2 Garlic cloves minced
 2 Tbsp Olive Oil or butter
 Sea salt and pepper, to your taste
 Lemon wedges, to serve
Instructions
Preheat oven to 400°F.
In a small mixing bowl add almond meal, parmesan cheese, parsley, oregano, and chili flakes; mix well to combine
In a different bowl mix melted butter or olive oil with garlic, salt, and pepper.
Place the salmon in a baking dish and brush it with the garlic butter mixture or olive oil mixture.
Sprinkle with almond parmesan mixture, until fully covered, gently pressing the mixture with your fingers so it sticks to the salmon.
Bake in the preheated oven for 12-15 minutes, or until the crust is golden and the salmon is flaky. Enjoy!