Citrus Garlic Butter Shrimps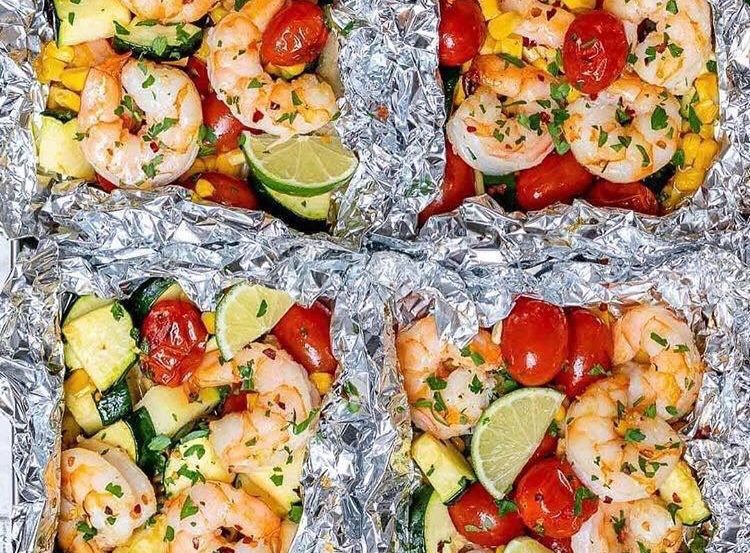 INGREDIENTS:
2 lbs Raw Jumbo shrimp peeled and deveined
 2 Tbsp Butter melted
 1 Tbsp Raw Honey
 4 Garlic Cloves minced
 2 Limes Juice and Zest
 2 Zucchini large, diced
 1 1/2 Cup Cherry Tomatoes
 1 Cup Corn kernels fresh or frozen
 1 Tsp Chilli Flakes
 Sea salt and fresh ground pepper to taste
 Lime slices to garnish
 Small bunch of fresh chopped parsley
DIRECTIONS:
1. Preheat the oven to 425°F.
2. In a large bowl add shrimp, butter, honey, garlic, lime juice and zest, chili flakes, and parsley. Stir in tomatoes, zucchini, and corn, then gently toss to coat.
3. Tear off four 16-inch sheets of aluminum foil and place them over a baking sheet, each one in its own corner.
4. Divide the shrimp and veggie mixture and add it to the middle of the foils.
5. Seal the foil packets, and bake for 15-20 minutes.
6. Remove from the oven and let rest for 5 minutes before opening the packets.
7. Carefully open the packets and enjoy!
PREP TIME: 15 MINUTES
COOK TIME: 20 MINUTES
TOTAL TIME: 35 MINUTES
SERVINGS: 6
CALORIES: 245 KCAL