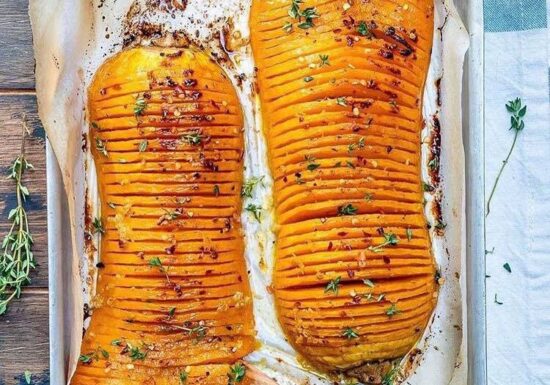 INGREDIENTS:
1 Small Butternut Squash
 2 Tbsp Butter melted
 2 Garlic Cloves minced
 2 Tbsp Honey or maple syrup
 1 Tsp Chili Flakes
 3-4 Sprigs Fresh thyme picked
 Salt and freshly ground pepper
DIRECTIONS:
1. Preheat oven to 400F.
2. Start by cutting the butternut squash evenly in half on lengthwise. Scoop out the inside and discard.
3. Using a vegetable peeler, peel off the skin just until you see the bright orange flesh.
4. Place the halves on a baking sheet, cut side down.
5. In a small bowl whisk melted butter, with honey, garlic, chili, and thyme.
6. Brush the squash with half of the garlic butter mixture and sprinkle with salt and pepper.
7. Roast in the oven for 20-25 minutes.        Remove from oven and allow to cool until ready to handle.
8. Place the squash halves to a cutting board and using a very sharp knife, slice it thinly, but not all the way through.
9. Return the squash to the same baking sheet and brush with the remaining garlic butter mixture Return to the oven for and roast for an additional 15-20 minutes. or until golden brown on the tops and tender.
Enjoy!