Bacon Wrapped Green Beans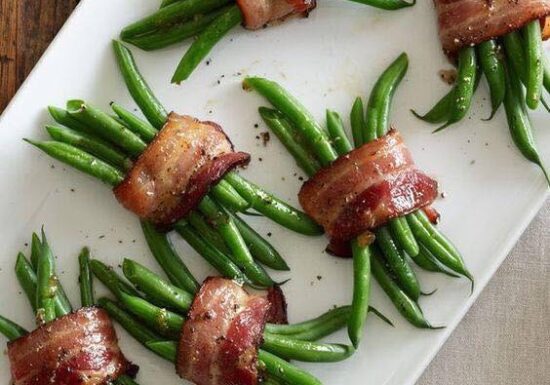 INGREDIENTS:
8 thick bacon slices
6 Tbs. (3/4 stick) unsalted butter, melted
1 1/2 tsp. kosher salt
3/4 tsp. roasted garlic powder
1 1/2 lb. green beans, trimmed and blanched
1/4 cup firmly packed light brown sugar
DIRECTIONS:
1. Preheat an oven to 350°F. Line a baking sheet with parchment.
2. In a large nonstick fry pan over medium heat, cook the bacon in batches until the slices are just beginning to brown along the edges but are still very underdone and pliable, 4 to 6 minutes. Transfer to a paper towel-lined plate and let cool, then cut each slice in half crosswise.
3. In a small bowl, whisk together the butter, salt and garlic powder.
4. Divide the green beans into 16 equal portions, about 6 beans each. Gather each portion into a neat bunch and wrap a half slice of bacon around the center to hold the beans together. Place the bundles on the prepared baking sheet with the loose ends of the bacon underneath. Sprinkle the brown sugar evenly over the bundles and drizzle with the butter mixture.
5. Roast until the bacon is cooked through and browned, 20 to 25 minutes. Let stand for 3 to 5 minutes. Transfer the green bean bundles to a warmed platter and serve immediately.
Prep Time: 15 minutes
Cook Time: 30 minutes
Serves: 8-10