Auburn Meadow Farms Bacon & Eggs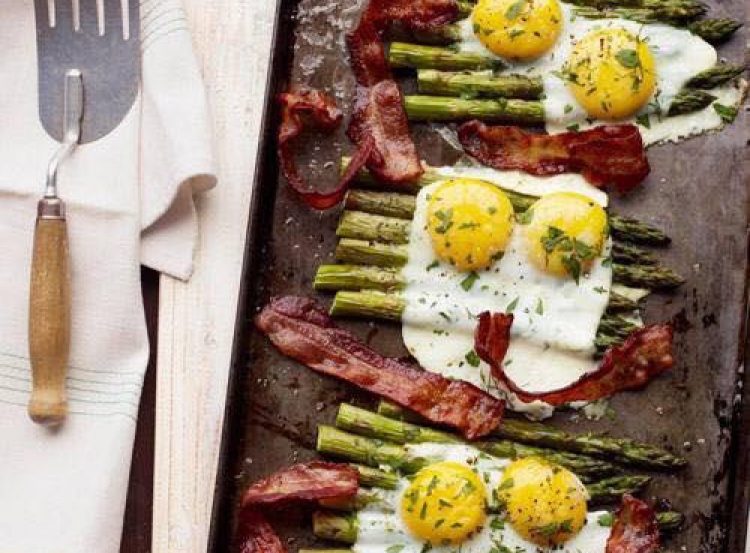 Ingredients
Yields: 4
Cal/Serv: 235
8 slice bacon
1 lb. asparagus spears
1/2 tsp. fresh thyme leaves
salt
pepper
8 large eggs
3 tbsp. packed fresh flat-leaf parsley leaves
1 tbsp. Fresh dill
Directions
Preheat oven to 475 degrees F. In 18 inch by 12 inch jelly-roll pan, arrange bacon slices in single layer, spacing 1/4 inch apart. Roast 8 to 9 minutes or until browned and crisp. Transfer to paper-towel-lined plate; set aside. Drain and discard excess bacon fat in pan, leaving thin film of fat.
Add asparagus to pan in single layer. Roll in fat until evenly coated. Arrange in tight single layer, with bottoms of spears touching one long side of pan. Sprinkle thyme and 1/4 teaspoon freshly ground black pepper on asparagus. Roast 8 to 10 minutes or until asparagus spears are tender and browned.
Carefully crack eggs, without breaking yolks, directly onto asparagus spears, staggering if necessary and spacing 1/4 inch apart. Carefully return pan to oven. Roast 5 to 6 minutes or until whites are just set and yolks are still runny. Sprinkle 1/8 teaspoon salt and 1/8 teaspoon freshly ground black pepper on eggs. Return bacon to pan; sprinkle eggs and asparagus with parsley and dill. To serve, use wide spatula to transfer to plate!